Taken from Aastha 2019.
Tara Bhusan Dahal's versatility defies the famous phrase 'Jack of all trades, master of none'. He has mastered all of them. Having directed hundreds of music videos, a feature film (Kagbeni), documentaries, anchoring in music programs, hosting political interviews, Dahal is a pioneer in the field of Media. Currently the Chief Executive AGM at Kantipur Television Network Pvt. Ltd, Dahal is currently hosting the political interview show 'Fireside with Bhusan Dahal'.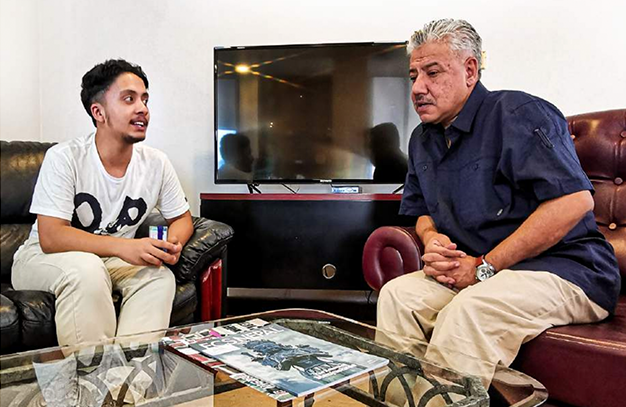 In this interview with Samip, Mr. Bhusan Dahal relives his days at Budhanilkantha School, shares his life stories about him entering the media, discusses the scope and possibilities of Nepali Media and his thoughts about the role of SEBS in building and protecting the school, community and the nation at large.
---
How did you get into BNKS?
I was born and brought up in Kathmandu and was a day scholar at St. Xavier's School. Somebody had told my father that "There's this new school, I think you should try it for your son". I remember going to the British Council to give my test along with some of my Xavier classmates. Somehow, I got in. It was 1975. Probably, it was the intent of my parents, especially my mom; me being the only son of the family, I had a lot of distractions. So, a hostel would have been a taming den for me.
What are of best moments of BNKS?
School moments while in school were never good (Laughs) because we needed to do a lot of labor. We had to study, prepare for our classes, do homework and on top of that, we had the 'Ten Past Six' system. I was not an introvert at school and anything entertaining that you were indulged into, you were thrown into the merciless ten past six peasant morning now and then. But, if you look back at it, ten past six made us grounded. It helped us understand the ground reality of everywhere that we go in life. It prepared me to live in a 7-star hotel or if need be, to sleep on the streets.
After graduation educational life?
When we graduated in the early '80s, there was a cliché in the society that once you graduate from a good school you had to study science. My parents and my family never took our opinion, whether I was cut for that or not. So, I was pushed into Amrit Science College where I tried to complete my intermediate 2 years. But, padhaai bhandaa sadhaai badhi bhayo. I didn't get through science. So, one fine day I gathered some guts and told my father that I could continue with science. Then, I switched to the Arts and Humanities at Patan College. I did my bachelor's from Tri Chandra College and then, much later, after I joined NTV, I completed my masters from TU.
It was 1988 when I first entered this business. It was sort of an accident as I wasn't prepared and didn't know what media all was about. I had a little exposure before I entered the TV business. I had gone for a year and a half to a Canadian trip which gave me an outlook of the television industry of the west. The eighties, even in the west, TV was vibrant with new concepts and ideas. Johnny Carson, Garry Shandling you name it there were so many talk shows and musical show dealt with pop music. 'Sunday Pop', it was called, in which we played the top singles of the week. The show was only of its kind back then and it was what made me a common household name. Television was just rising, and the competition was less. I guess luck favored me somehow (Laughs). After 7 or 8 years of television, I finally realized that I could make a living out of it. So, I diversified I learned production, the art of filming, started doing commercials and music videos. I even attempted a film called 'Kagbeni'. And the rest is history! It's been more than 30 years and I am still moving on.

Comparing it which the international reachability, how do you find the scope of journalism and media in Nepal?
In my experience, Nepal is a different country, probably build with a different clay when mankind was built. Some of us were absent when god was giving us brains. Most of us were absent when god was giving us wealth. But god was fair. They didn't give us ready-made brains or wealth. But they gave us such a beautiful mass of land and the opportunities that it creates to build a life around it. We have not yet learned how to make the best out of it. Just don't concentrate on me to explain the media. The possibilities are in abundance. But
most major problems still exist. Infant mortality, hygiene, food quality, and security, etc. Why? We have everything available in our arm's length. Take an example. I am a villager. I only complain that other villages have a trekking route while my village doesn't. I never think about how I could possibly attract tourists to my village and make them happy. We have buckwheat, millet, rice, and all the whites. We have all the greens and reds, meat and dairy. So, let's mix the greens, reds, and cheese and make two slices of bread with the whites and there you go! A perfect sandwich, which will attract that tourist in my village.
So, we need somebody to stimulate the people who were absent in the god's giving ceremony. You can be the one to do that. Hence, there is ample opportunity, work for everybody. I hope that answers your question!
Among all the talk shows in Nepal, how do you differentiate 'Fireside with Bhusan Dahal'?
In any form of media, there is a little bit of creativity required. Creativity is like your chromosomes, neither can be stolen nor gifted. It comes to life with you and probably dies with you. An interview and interrogation are two different things. In my interviews, I take my interviewee as a guest. I believe that a guest should be welcomed, chatted well with and after we are done, he or she should have a fantastic safe passage out. My guests are not criminals. So, it's not my job to interrogate them. My job is to dig out the queries that I have and find the best possible answers. So, achieving all this requires a considerate level of diplomacy. I don't want to compare as there as so many good talk shows with their ideas and creativity. Thank you if people like my show.
But I've met people that hate my show as well, people who want more of an argument with direct firing of questions. I take it with a pinch of salt because going back to school, there are certain elements of me that people see on camera, have a Budhanilkantha element in it. We were taught some things differently which helped me with it…or did not!
Nowadays, Bhusan Dahal has become a brand name. From your voice to your appearance in a commercial, you have a huge influence. How do you feel? Do you also feel a sense of added
responsibility?
I started lending my voice for a long time now. Initially, there were very few voice artists in this country. There was a time I felt that my voice was being overused. In every third commercial, I had lent my voice and its impact was diminishing day by day. Hence, there was a point of time in which I made a conscious decision to not lend my voice to anyone and I completely stopped. After that, in my 6 to 7 years break, I tried modulating my voice, practiced effective deliveries and learned the technical side of recording, while constantly observing the market's demand. Once I was set to go again, I asked one of my friends for a possibility of voiceover in one of his movies. After that, nothing was stopping me.
I am lucky that people are still using my voice and I am even grateful to those people who are finding my voice important. My intention is not to make my voice sound important. But probably the life that I have given to the field of media has given me a pat at the back.
Now, I am very choosy about it. I do not do alcohol commercials or cigarette ads or related industries. Not to say that I am against these industries, but when the world is having a hue and cry around them, I believe that I should not be a spokesperson to the industries. But, once again, it's a commercial world and it's a supply and demand game. That also matters wholly when I choose ads. But I am thankful to whoever wants to use my voice or my face to endorse their products.
Regarding the land issues of Budhanilkantha School, you were one of the first ones to react to the news that was published on the 'Kantipur' daily. With a powerful statement on twitter, you reached out to thousands of your followers and fellow SEBSers. What triggered you in doing so?
Budhanilkantha School was built with a vision and the intent the value is still valid and noble to date. But, with time, we are trying our best to kill it and snatch away its glory. The ethos that has gone into the school and the intent of giving people good and affordable education is being retranslated, especially politically. So, utilizing the school's land for a public bus park was one big blow, a big attempt to amplify the degradation of our school. Hence, I was passionately touched with whoever thought of it as an idea. Our premises were and still are sacred, as we all learned life out of it. If anybody wants to build something to do with education, we should be happy to bring our heads together and bring up an institution of higher studies maybe. There could be a fantastic medical school, computer school, horticulture school or even a grand sports facility. But, commercial bus park, NO! At least, till my last breath, I would oppose it. That was the passion that I have which I disseminate to whoever feels strong
for the school.
What are your thoughts on SEBS?
Well, SEBS is an ex-students' organization. Our fellowship, our comradery, should always contribute positively to the school. We should not be divided when it comes to school, when it comes to its sanctity. I can tell you right on everybody's face that we have spoiled the school to its ground by injecting too much politics. It has to be an academic institution guided by knowledge and not politics.
I had a friend who didn't have a proper house to live and I had a friend from the Narayanhiti Royal Palace too. But, we ate the same food and used the same dormitories. Now we have people who are talking about transformation with us. We knew transformation in the '70s and '80s. We grew up with it. There were no social differences between us. Look at Nepal now. Budhanilkantha is a fantastic cross-section of the diversity of the country and unity among all of us, which is what strength SEBS has.
I travel the world. Whenever we bump into an ex BNKS, maybe a senior or a junior, we talk as if we grew together and then we move on in our ways. So, I think Budhanilkantha is such an institution that we have to keep it strong as it used to be, and we should replicate as many schools that we can replicate all around the country. I believe that the present generation should still benefit the way we benefited from the school. That should, in my opinion, be the ultimate goal of SEBS.