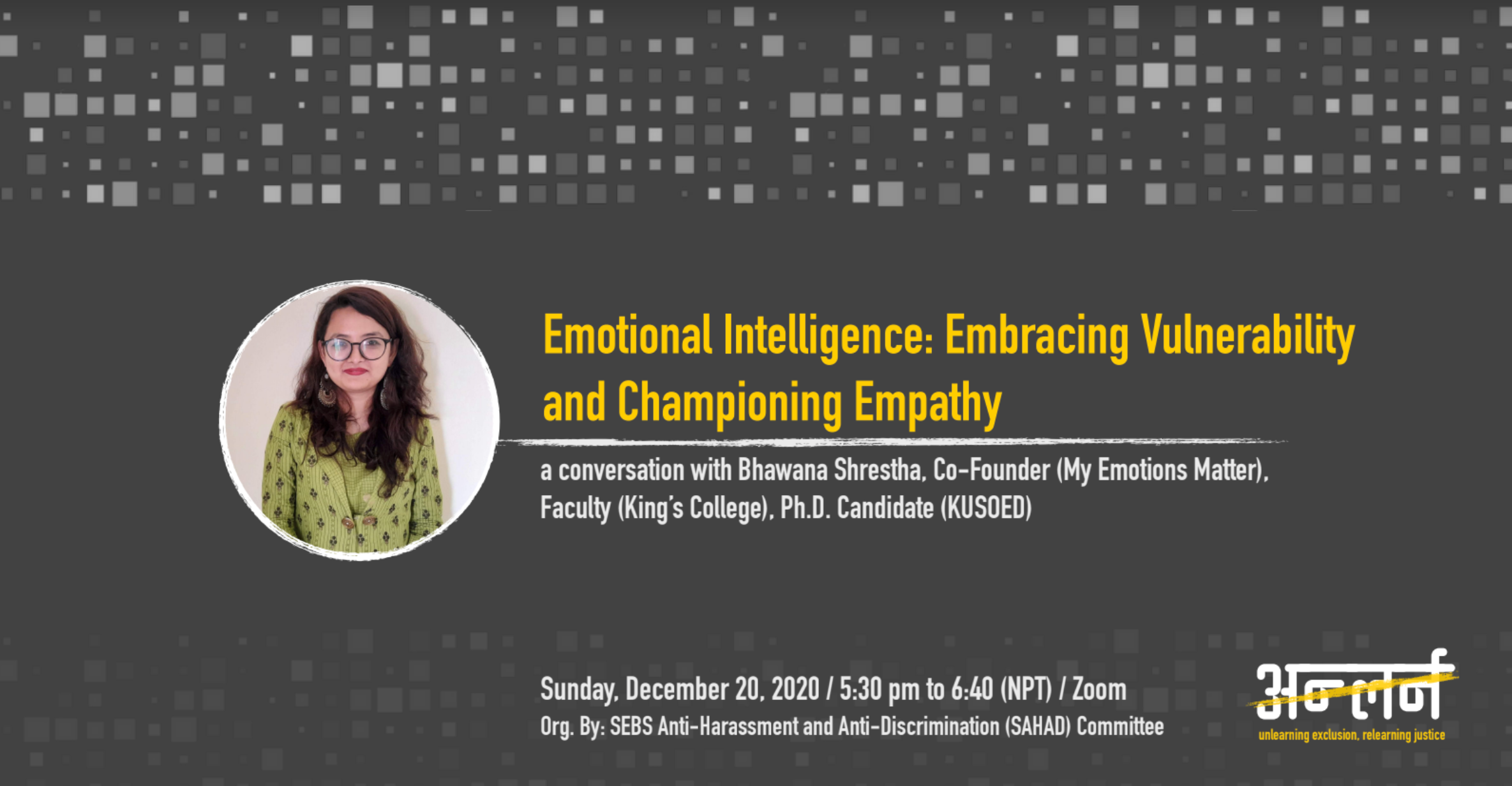 Unlearn 2.0: Emotional Intelligence: Embracing Vulnerability and Championing Empathy
314
314 people viewed this event.
Speaker: Bhawana Shrestha, Co-Founder, My Emotions Matter, Faculty, King's College, Ph.D. Candidate at Kathmandu University School of Education
Bhawana Shrestha is a Ph.D. candidate of Educational Leadership at Kathmandu University School of Education (KUSOED). Through her research, she is exploring ways to improve her practice in educating emotional intelligence and trying to generate her living theory on educational leadership that will contribute to the 'flourishing of humanity'. Currently, she is working as a faculty member and a member of the Office of Safe and Respectable Learning (OSRL) at King's College. Prior to that, Bhawana worked as a Teach for Nepal Fellow in a rural area of Nepal educating public school children for three years. She also worked as a journalist in her early career. Her empirical research made her realize the importance of emotional intelligence in Nepal which led her to start My Emotions Matter, a purpose-driven enterprise that works around emotional intelligence. She is an alumna of 'Living Through Lived Experience' as well as a TED fellow for Teach for All. A redemptive storyteller, Bhawana believes in living a meaningful life and is fond of plants, poetry, and paintings. Bhawana, and her colleagues, recently published their first book on emotional intelligence – My Emotions Matter.
Date: Sunday, December 20, 2020
Please login to view the event video.
Unlearn 2.0 Resources: